GoIn -Behave or GET LOST!
is a 2D bouncer simulator created during the Ludum Dare game Jam #42. You manage a night club and need to make sure your customers are happy in order to rid them of their sweet, sweet dollars!
HOW TO PLAY: 
Make sure that your guests are happy!
If a person's personal space is invaded, they get dissatisfied and stop spending money.
This game is played with the mouse only:
Mark guests by clicking on them, then decide if you want to let them stay in your night club or if they deserve to get thrown out.
PLAY THE GAME:
LDJAM 42 game page: GoIN – Behave or GET LOST!
CONTROLS: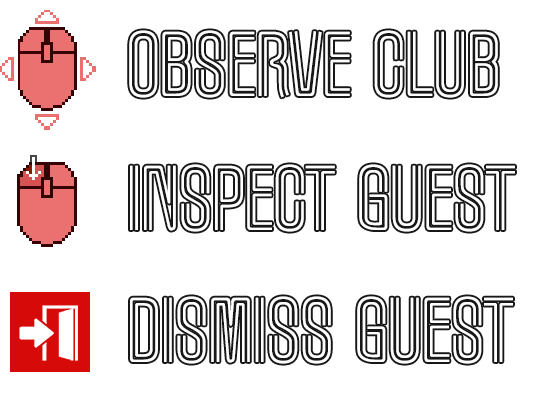 MEDIA

BUT WAIT, THERE'S MORE!: To promote the gradually growing community around our open-source Java 2D game engine LITIengine, we've decided to provide the source code for "GoIn – Behave or GET LOST!" in a public repository on GitHub.
So if you are getting started with LITIengine, consider taking a look at this game's code, even though there may be some really ugly bits of jam code. If you like what we do, you might want to support us on Patreon or via Paypal!
MADE WITH LITIENGINE, ©2018 GURKENLABS